Late January is the time of year when football fans put on their thinking caps and plan a super buffet to serve to their friends and family as they take in one of America's most exciting sporting events, the Super Bowl.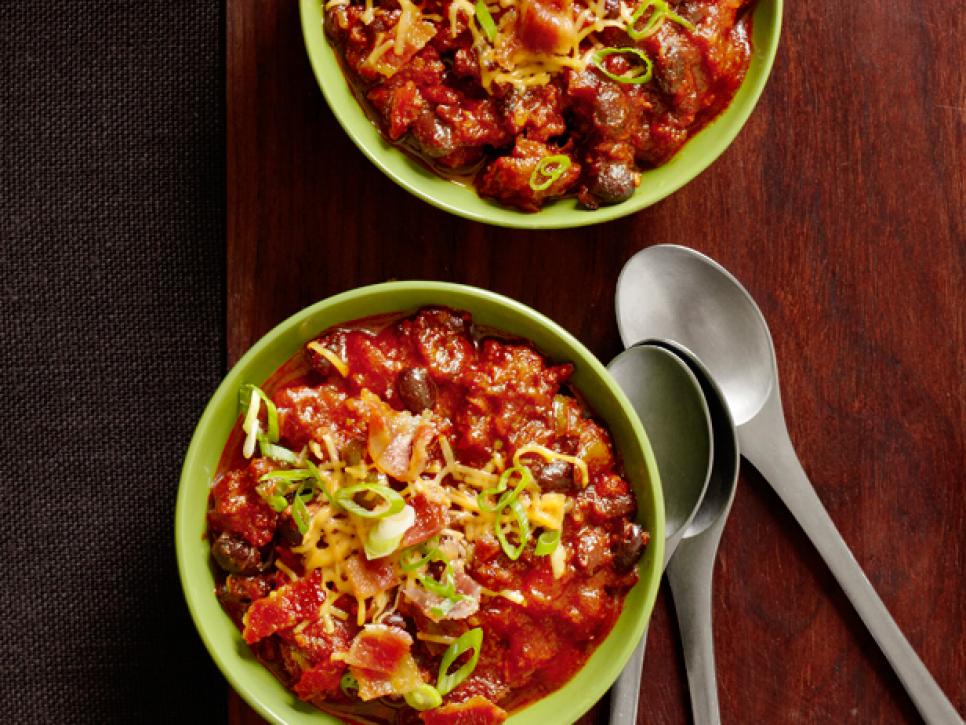 Classic Super Bowl Chili
Classic Super Bowl Chili is cooked in a slow cooker. This chili tastes terrific when served with white or blue corn tortilla chips or crusty bread rolls for dipping. This chili recipe is easily doubled. If party hosts don't have a slow cooker or if the slow cooker is too small to double the recipe, a Dutch oven or large, heavy pot will serve well as a substitute.
Ingredients
1 lb. ground beef
1 medium white onion, diced
1 red bell pepper, diced
1 jalapeno pepper, diced
1 can of black beans, drained and rinsed
1 can of red kidney beans, drained and rinsed
1 can of diced tomatoes, with juice
1 mild, medium or hot chili spice packet such as Clubhouse Chili Seasoning Mix
1 bay leaf
Directions
Over medium heat, brown the ground beef in a medium frying pan until the meat is no longer pink. Add to slow cooker.
Add onion, bell pepper, jalapeno pepper to the slow cooker. When handling jalapeno peppers, a cook should avoid touching his or her face, especially around the eyes. Hands should be washed thoroughly with soap and water before continuing on to the next step of the recipe.
Add beans and tomatoes to the slow cooker, along with the chili spice packet and bay leaf. Stir well to combine.
Cook for 4 to 5 hours on high heat or 8 to 9 hours on low heat, stirring occasionally.
Serve Classic Super Bowl Chili on the Super Bowl party buffet table, accompanied by tortilla chips or buns, as well as a dish of guacamole, shredded cheddar or Monterey jack cheese, diced green onions and sour cream.
Buffalo Chicken Sandwiches
Eliminate the extra fat found in deep-friend chicken wings but keep all the flavor in these delicious Buffalo Chicken Sandwiches. Make sure to select breaded chicken with a crispy outer coating that will best resemble the unmistakable flavor of Buffalo chicken wings!
Ingredients
Breaded chicken breasts or chicken tenders, white breast meat
Fresh, crusty kaiser rolls
Blue cheese salad dressing
Frank's Red Hot Buffalo Wing Sauce
Lettuce, torn
Tomato, sliced
Directions
Cook chicken in the oven, according to package directions.
While chicken is cooking, slice the tomatoes, tear the lettuce and arrange attractively on a plate. Pour blue cheese salad dressing into a bowl and place near the lettuce and tomatoes.
If desired, toast buns. Toss crunchy, cooked chicken tenders in Frank's Red Hot Buffalo Wing sauce and place on buns.
Serve sandwiches with toppings nearby on your Superbowl buffet table, so that guests can customize their sandwiches. Make sure to provide lots of extra napkins!
---
Check the handgun safe of this year. You may find a lot of useful.
What the best beard oils are for you?
Find how to stop cats from peeing without any stress. Many tricks and cheats are talked about here.
Want to learn how to do magic? Have some easy tricks to show?
Better use best cordless drill to avoid troubles.
Read the new air purifier reviews for latest features and prices.